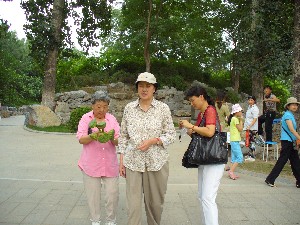 Judy and relatives at a Beijing Park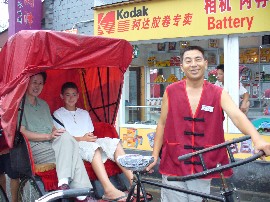 Judy finally takes a load off of her feet as she takes a tour of one of Beijing's old neighborhoods, known as Hutongs, with her grandson.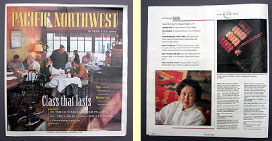 Chef Judy Fu was featured in the Seattle Times
Pacific Northwest magazine.
See link below for CNNGo feature: http://travel.cnn.com/explorations/eat/usa/50-best-chinese-restaurants-usa-145368?

HAPPY NEW YEAR!!!
THE YEAR OF THE PIG COMES STORMING IN! - February 2019
Mother Nature, played by the Big Bad Wolf, came huffing and puffing and threatening to blow Snappy Dragon down. Inside, the Three Little Pigs, Ambitious, Kind, and Strong, were able to fend off the Wolf, but succumbed to Judy's dumplings, noodles, and hot and sour soup. They invited their friends, Rabbits and Goats, to join them. Pigs don't much care for Snakes, but that's what the back dining room is for. Born in 2007, 1995, 1983, 1971, 1959 and 1947, what is extra special about Pigs is that they are both wealthy AND honest!! Honestly, everyone is welcome to make their way through the slop and Pig out at Judy Fu's Snappy Dragon!

SNAPPY DRAGON -
25 YEARS YOUNG!!!
Congratulations Judy Fu! Here's to many more years of noodles, dumplings, and satisfied customers!
In July 1993, Judy moved into a converted house in Maple Leaf and opened Judy Fu's Snappy Dragon. Already a fan due to her prior stints as head chef at other Seattle Chinese restaurants, John Hinterberger, the widely-followed restaurant critic from the Seattle Times, tracked down Judy at her new establishment and reviewed her a month later. The rest is history.

2017 Best of Western Washington Winner!
Many thanks to all of our loyal customers who continue to give Judy, David, and the rest of the crew a vote of confidence, not only in the annual King5 poll (Winning 9 out of the last 10 years!), but with your business, smiles, and friendship throughout the years!

Judy Fu's Gourmet Sauces Now In Safeway Stores!
In addition to the many fine local grocery retailers who carry her products, you can now stock up on your favorite Judy Fu's Sauces at Safeway Supermarkets throughout Washington, Oregon and Alaska. Grilled chicken skewers with Judy's Peanut Sauce, marinated flank steak with Judy's Potsticker Sauce, stir-frys with Judy's Hot Oil, cod simmered in Judy's Black Bean Sauce .....

Whistling While They Work!
Check out the About Snappy Dragon page to see Judy's dumpling making machine in action!

Judy Fu's Snappy Dragon
Named One of the 50 Best
Chinese Restaurants in the U.S.
by CNN International's CNNGo.com (see link at left)
Well done, Fu-Ma!

Kid Sticks at
Snappy Dragon
Fun colors and topped with your favorite zoo animals, Kid Sticks are chopsticks on training wheels. They will get every last grain of rice or strand of noodle on your plate. They even work for adults. So toss the fork and pick up some Kid Sticks the next time you visit Snappy Dragon.
Snappy Totes
Snappy Dragon Tote Bags are available at Snappy Dragon. Offered in a variety of colors (we're partial to red), they are $10 each and are excellent for carting away Kid Sticks AND Judy Fu's Gourmet Sauces!!!