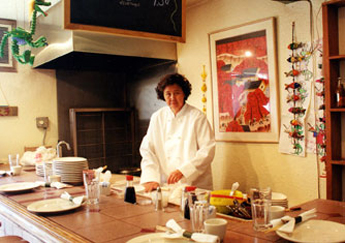 Chef Judy Fu at her Jiao-zi Bar
WELCOME TO JUDY FU'S KITCHEN!

Cod Fillets in Judy's Black Bean Sauce
- Heat two tablespoons of cooking oil to medium-high in a large skillet.
- Place three to four cod fillets in the pan and brown lightly on each side.
- Reduce heat to simmer and add Judy's Black Bean Sauce
(enough to cover each fillet).
- Simmer for 8-10 minutes, turning fillets occasionally.
More Tasty Black Bean Options
Same browning and simmering method, just use the following in place of cod fillets:
- Sliced beef and chopped green onions
- Sliced pork and bamboo shoots
- Sliced chicken breast and sliced (sweet) yellow onion

top of page
Stir-Fry Noodles
Start With
Two chicken breasts, sliced
One lb. chopped vegetables
One lb. refrigerated (preferred) or 8-12 oz. dry noodles are recommended).
(chow mein, stir-fry, yakisoba or buckwheat soba
3/4 cup Judy's Potsticker Sauce
1/2 - 1 teaspoon Judy's Hot Oil
4-6 tablespoons cooking oil
- Slice chicken breast into stir-fry size pieces. Marinate in 1/4 cup Judy's Potsticker Sauce
- Rinse and chop the vegetable(s) of your choice - favorites include snow peas, snap peas, bell
peppers and broccoli.
- Heat a skillet or wok to medium-high, add 1-2 tablespoons of cooking oil, then stir-fry the chicken
with the potsticker sauce until almost done. Set aside the chicken in potsticker sauce.
- If neccessary, re-heat skillet or wok to medium-high, add 1-2 tablespoons of cooking oil plus
Judy's Hot Oil, then stir-fry vegetables for about 2-4 minutes. Set aside.
- Separately, prepare the noodles as per package instructions - if you choose to use dry noodles, undercook slightly.
- Heat two tablespoons of cooking oil in the skillet or wok to medium heat, add prepared noodles
and 1/2 cup Judy's Potsticker Sauce, and quickly toss with cooked vegetables
and chicken and potsticker sauce previously set aside.
Serves 4-6.


top of page
How to cook frozen Jiao-zi
1. Fill a very large pot (or stock pot) about half full of water.
2. Bring water to a rolling boil. As soon as water comes to a rolling boil. Add frozen jiao-zi.
3. As soon as water again comes to a full boil (and almost boils over), Add two cups of cold water. Stir very frequently but gently, so that the jiao-zi will not stick together. Bring to boil again.
4. Repeat step #3 three more times for pork jiao-zi.
5. Repeat step #3 two more times for vegetable jiao-zi.
For PORK jiao-zi the whole cooking process should take about 15 minutes.
For VEGETABLE jiao-zi, cooking should take about 10 minutes.
When you think the jiao-zi are done cooking, remove one piece from the water and cut it in half to be sure that the inside is fully cooked and hot.
When purchased at Snappy Dragon, there is at least one extra piece of jiao-zi provided for this purpose. All pork is considered fully cooked when it reaches 165° F.
Now you are ready to scoop your jiao-zi out of the water, and place them onto a plate or platter. Serve them while hot and steaming, accompanied by Judy's Potsticker/Jiao-zi Sauce.
In China, the water in which the jiao-zi have been cooked would be offered to the diners as a soup alongside the jiao-zi.

top of page
Marinated Pan-Fried Salmon
-for a Snappy twist on a Northwest favorite-
-Marinate a salmon fillet in Judy's Potsticker Sauce for fifteen minutes, using approximately one
quarter cup per pound.
-Take fillet out of marinade and place in lightly oiled pan over medium low to medium heat and
spoon out one half the reserve marinade over the salmon.
-Cook turning salmon every few minutes, continuing to spoon over reserve marinade, until done
(ten to fifteen minutes depending on thickness).
For a Spicy twist - stir in a teaspoon (or two) of Judy's Hot Oil to each one quarter cup of Potsticker Sauce before marinating.
On the Grill - extend marinating time to two hours and baste while grilling over medium heat.

top of page
Grilled Chicken Satay
Skewer chicken breast chunks, bell pepper and onion pieces (making enough skewers to serve six) and cook on a lightly greased grill over medium heat for ten to fifteen minutes. While grilling, mix one cup of Judy's Peanut Sauce and 3/4 cup coconut milk over low to medium-low heat in a sauce pan. Serve skewers on a bed of rice. The peanut sauce mix can be served in individual dipping bowls or poured directly over the skewers.
Options
-Add one to two tablespoons of Judy's Hot Oil to the peanut sauce mix while heating to create a
palate-pleasing spicy rendition.
-Marinate chicken or entire skewer in Judy's Potsticker Sauce for one hour prior to grilling to
produce a mouth-watering combination of flavors.
-Substitute medium to large shrimp for chicken. Shell and devein and reduce cooking time to four to
eight minutes, depending on size (vegetables may need to be cooked longer, according
to taste).

top of page
Heidi's Triple Threat Stir-fry
(Start by marinating strips/cubes of chicken breast or tofu for 40 minutes in Judy's Potsticker Sauce.)
-Heat a mix of two tablespoons cooking oil and one tablespoon Judy's Hot Oil (to taste) in a large
saute pan over medium to medium high heat.
-Add an assortment of stir-fry vegetables (broccoli, carrots, peppers, snow peas, mushrooms,
cabbage, onions, etc.).
-Add the marinated chicken or tofu.
-Cook until vegetables are almost done al dente and the chicken/tofu is nearly cooked through,
approximately seven to twelve minutes (you may need to adjust the time here, depending on
your choice of vegetables and how thick you slice your chicken/tofu).
-Reduce heat to medium low to medium.
-Stir in two heaping tablespoons of Judy's Peanut Sauce and cook for an additional two to three
minutes. The heat will melt and blend the peanut sauce with the other ingredients to make a
sumptuous stir-fry. Serve over soba noodles or rice.

top of page
Double D's Portobello Mushrooms
Two portobello mushrooms
Two tablespoons Judy's Potsticker Sauce
1/4 teaspoon Judy's Hot Oil (optional)
Rinse and dry mushrooms. Separate stems from caps. Slice stems lengthwise about 3/8 inch wide (3 per stem). Slice caps into strips 3/4 to one inch wide.
Place all mushroom pieces in a large skillet over low heat for one to two minutes, then sprinkle potsticker and hot oil mix over the mushrooms. Continue to cook over low heat for another 10-15 minutes. A great side dish or appetizer. Serve immediately.
To grill or broil, place mushroom pieces in a shallow bowl and sprinkle the potsticker/hot oil sauce over all the pieces one to two minutes before placing on the grill or in the broiler. Any reserve marinade can be spooned over mushrooms while cooking.
On the grill - cook over medium heat, turning once or twice for about ten minutes. In the broiler - broil at 450 degrees for 4-5 minutes per side.

top of page
Cold Noodles with Peanut Sauce
Soba or thin Chinese egg noodles (fresh or dry) Judy's Peanut Sauce, 1 cup (one half of a 19oz. jar per 1lb. uncooked noodles) Judy's Hot Oil (optional, to taste. 1-2 tablespoons recommended)
Boil Chinese noodles until cooked to desired tenderness. Briefly cool by immersing in cool water. Drain thoroughly. Heat Judy's Peanut Sauce. If desired, thin with Judy's Hot Oil for a spicy noodle dish, or with a small amount of water, milk or cream to keep it on the mild side.
Toss noodles and peanut sauce in a large bowl. Then toss or garnish with any combination of the following:
Julienned carrots, julienned cucumbers (discard peel and center pulp), thinly sliced or chopped green onion, broccoli crowns, chopped peanuts, toasted sesame seeds.
A great meal, side dish or potluck platter. Enjoy!

top of page
Marinated Flank Steak
1 flank steak (1 1/2 to 2 lbs.)
Judy's Potsticker/Jiao-zi Sauce (1/2 cup)
Judy's Hot Oil (optional, start with 1 teaspoon per 1/2 cup)
Score steak slightly. Toss on some long cut green onions and toasted sesame seeds. Marinate in refrigerator for 2-6 hours. Broil or grill 10-20 minutes total, depending on thickness and desired doneness.
Potsticker Sauce to the rescue: If you forget to marinate, or you get too busy and overcook the flank steak (chicken, pork chops, etc.), put Judy's Potsticker/Jiao-zi Sauce on the table. It makes a mouthwatering dipping sauce. If you choose, spice it up with Judy's Hot Oil.

top of page
From the Snappy Dragon Restaurant Kitchen:
Green Onion Pancakes
An appetizer, snack or side dish. Makes 4 pancakes
Ingredients:
3 C. and 2T flour
1 cup boiling water
4 T vegetable oil
1/3 cup cold water
4 tsp. salt (to taste)
4 T chopped green onions
vegetable oil for frying
1. In a large bowl, mix flour and boiling water. Let mixture rest for 5 min. Add cold water, knead dough, and let rest for 15 minutes.
2. Divide dough into four equal portions. FOR EACH PORTION: on a lightly floured board, roll dough out to a 10" circle; spread 1 T oil onto the round and then sprinkle with 1 tsp. salt (to taste), and 1 T green onions.
3. Roll the pancake up like a jelly roll, then coil into a snail shape. This creates the layers that give the pancakes their wonderfully flaky texture. (If planning ahead, the pancakes can now be wrapped in plastic and refrigerated for up to 24 hours. For the rest of us, it's on to the next step).
4. Using a rolling pin, roll out the dough "snail" to a 9" round and fry in an oiled 9" non-stick pan until golden brown and crispy on both sides. A bit more oil may be brushed on before frying second side, to ensure a golden brown color. Cut pancake into eight pie-shaped wedges.
5. Serve with Judy's Hot Oil and/or Judy's Potsticker/Jiao-zi Sauce.

top of page
KENNY'S THAI PIZZA
What you need:
1 Boboli™ - thick or thin
1 jar Judy's Peanut Sauce
1 pre-cooked full chicken breast
1 clove garlic, crushed
1 bunch thai basil, chopped
1 habanero pepper, sliced paper thin
16oz. mozzerella cheese, grated
1 large carrot, coursely chopped
1 red bell pepper, halved and sliced
1 yellow bell pepper, halved and sliced
1 bunch cilantro, cleaned/chopped
1 lime
bean sprouts
What to do:
In a metal bowl, take garlic, chopped cilantro and basil and carrot, mix well and add habanero to taste (remember, habanero is for heat, not flavor!).
Spread Judy's Peanut Sauce on pizza crust
Spread mixed vegetables on crust
Slice chicken into strips and spread on crust
Place sliced red and yellow peppers over chicken and cover with cheese
Pre-heat oven to 425 degrees
Place crust on pizza pan or stone and bake approx. 20-25 minutes
Remove, garnish with basil and bean sprouts
Squeeze the juice of one lime over the whole pizza
Serve and enjoy!
From Kenny Wright A Ballard Market Favorite!

top of page
Pork Won Tons
(makes 3 to 4 dozen won tons)
1 lb. ground pork
1 tsp. minced ginger
1 tsp. minced garlic
1/2 tsp. sesame oil
1 green onion, finely chopped
1/2 tsp. salt
In a medium bowl, mix well all ingredients. Place a rounded teaspoon of filling on the corner of a won ton wrapper. Fold the corner over the filling, tucking the point under. Using egg batter, moisten the two side corners, fold them behind the filled corner and pinch them together to hold. Place finished won tons on a cookie sheet until filling is complete. If the won tons will be boiled, they then may be refrigerated (for up to eight hours) or frozen (on the cookie sheet until firm, then place in plastic freezer bags). For fried won tons, cook immediately. If desired, fried won tons can be cooked and cooled, then placed in the freezer in plastic bags.
Boiling:
Bring a kettle of water to boil, place won tons in kettle and reduce heat to simmer. Cook for about five minutes, eight minutes if frozen, or until pork filling is no longer pink.
Frying:
Cook won tons in two inches of oil at 350- 375 degrees for two to three minutes, turning occasionally. Using a slotted spoon, remove from oil and drain on paper towels. Reheat frozen fried won tons on cookie sheet in oven to retain crispness.
Use Judy's Potsticker Sauce, Peanut Sauce or Hot Oil individually, or any combination, as the dipping sauce for your won tons.
top of page