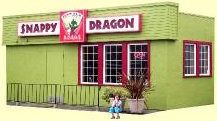 SNAPPY DRAGON RESTAURANT
8917 Roosevelt Way NE
PHONE: (206) 528-5575
DINE IN & TAKE OUT
Mon-Sat: 11:00am to 9:00pm
Sun: 4:00pm to 9:00pm

DELIVERY
Lunch
Mon-Sat: 11:00am to 1:30pm
Dinner
Mon-Sat: 4:00pm to 9:00pm
Sun: 4:00pm to 9:00pm
MAP & DELIVERY ZONE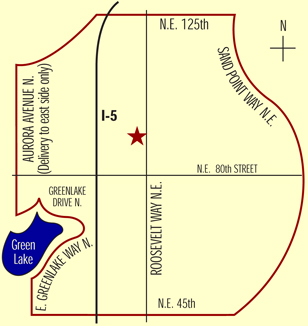 MAP LINK
Snappy Dragon provides delivery service to the area outlined in red above so that we can provide the highest quality and consistency of food and service.
Contact David Fu (206) 528-5575 or an assistant manager to inquire about high volume delivery, office parties or catering functions outside the delivery area.
Emails to snappydragon.com are not monitored at the restaurant. Please phone your takeout, delivery and reservation requests to the number listed above. Thank you.